PamGene International B.V., an in-vitro diagnostics company focused on the development and commercialization of blood-based immunotherapy selection tests, today announced it has received extension of its ISO 13485:2016 certification. The extension completes PamGene's ISO-certificate and is an important milestone in the company's intensified focus on serving as a global service provider of immunotherapy selection with its IOpener® tests, and follows PamGene's initial ISO certification in January 2019.
ISO 13485:2016 is an internationally recognized quality standard to ensure the quality of in-vitro diagnostics design, development, manufacturing and services. The extension of its ISO scope, by including manufacturing, is key to PamGene's provision of in-vitro diagnostic assay services for the prediction of immunotherapy response in oncological diseases using its IOpener® test. In a reaction to the news, PamGene's Managing Director John Groten said, "I'm very proud of our team for successfully completing ISO scope extension to support the launch for our IOpener® immunotherapy response prediction platform. This extended certification is an important step towards the planned market introduction of our IOpener®-melanoma and IOpener®-NSCLC tests after securing CE-IVD certification, which should happen later this year."
"PamGene has built a highly skilled team of dedicated engineers, regulatory professionals and scientists for whom high quality is the number-one priority. We are delighted that this has been confirmed by Notified Body Lloyd's Register, which gave us a perfect score with no observations," says Kristiane Schmidt, PamGene's Diagnostics Program Manager.
"The ISO extension is a recognition of the dedication of my team to manufacture high-quality peptide microarrays and IVD reagents," says Iskandar Gandasasmita, PamGene's Head of Manufacturing. The audit and ISO scope extension underscore the quality of the practices and processes used at PamGene to develop and manufacture the IOpener® kinome-activity profiling liquid biopsy tests.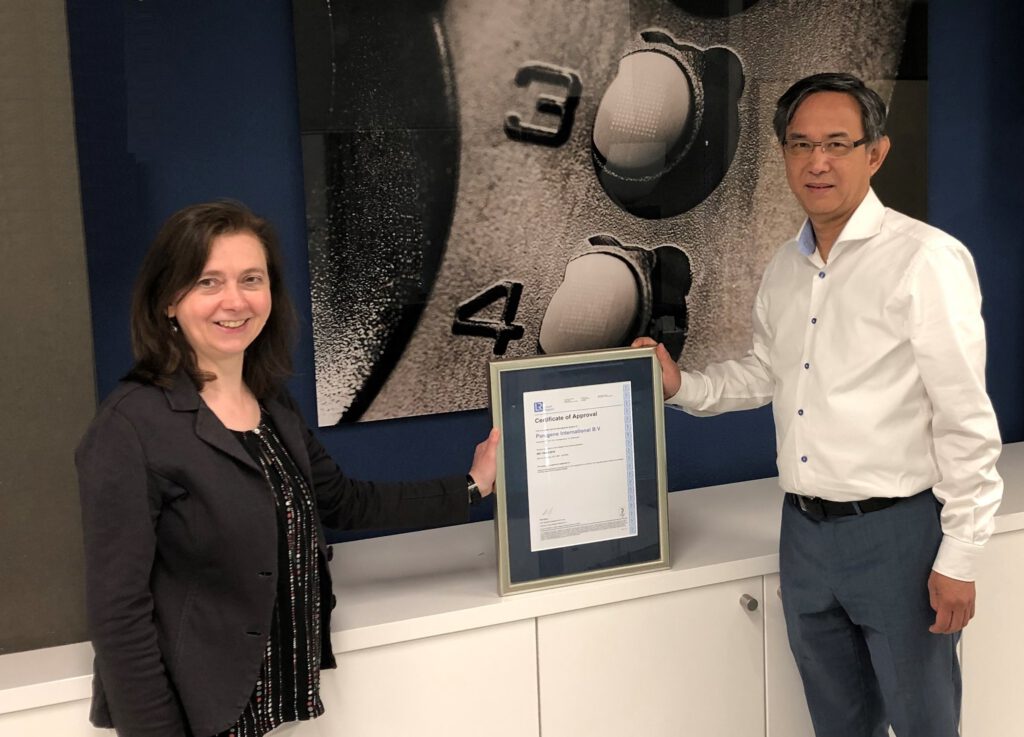 About IOpener® – A liquid biopsy immunotherapy treatment selection test that improves lives
The IOpener® is a blood-based diagnostic test that supports immunotherapy treatment selection. This peptide microarray-based test measures the activity of kinases in peripheral blood mononuclear cell isolated from a single tube of blood from a patient to determine the likelihood of responding to immunotherapy. The test's technology is based on 20 years of experience in measuring and interpreting kinase activity to support academic and clinical research. The IOpener® test is an in-house developed test that will be performed in PamGene's ISO 13485:2016 certified laboratory. The IOpener® is in the final phase of clinical validation for CE-IVD certification.
About PamGene
PamGene International B.V. is an in-vitro diagnostics company which has recently intensified its efforts to develop and commercialize a blood-based immunotherapy selection test, the IOpener®, to improve patient lives. The company's kinase-activity profiling technology and proprietary software algorithms support clinicians in their treatment decisions using the IOpener® assay. PamGene's robust and unique peptide microarray technology for multiplex kinase-activity profiling is also used to provide dedicated assay services for patient stratification for clinical trials, biomarker discovery and gaining mechanistic insights in cellular processes needed to understand human diseases. PamGene was founded in 1999 and is headquartered in 's-Hertogenbosch, the Netherlands.
For more information, please contact Rinie van Beuningen, Vice President Business Development – iopener@pamgene.com – +31 (0) 73 615 80 80 – www.pamgene.com.
IOpener® is a registered trademark in the U.S. and European community.