Kinase profiling reveals potential target in prostate cancerThis week, a new PamStation study by the group of prof. Anne Hansen Ree at the Department of Oncology, Akershus University Hospital in Norway, was published in PLOS one. In this study, the researchers, Kathrine Røe et al., investigated the mechanism that leads to castration resistant prostate cancer.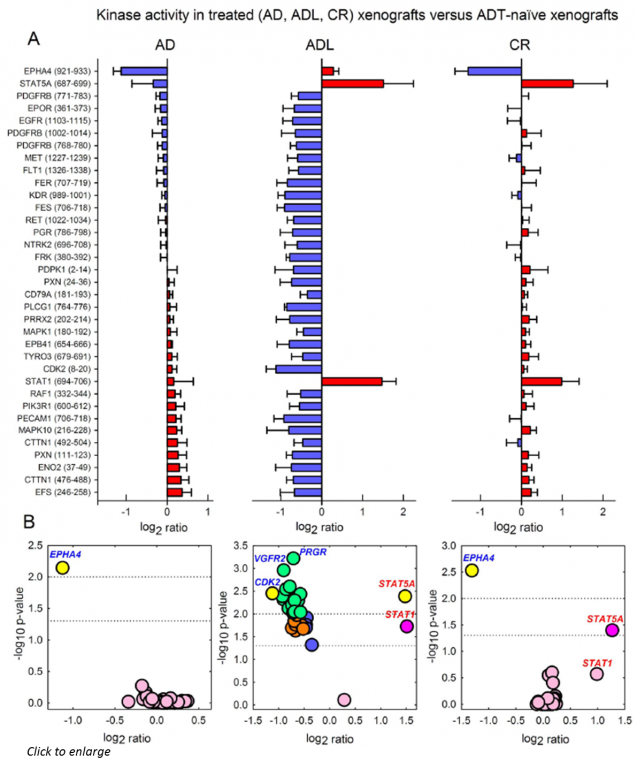 In prostate cancer, castration (androgen-deprivation therapy) is initially efficient, but tumours inevitably recur in a castration-resistant state. The researchers hypothesized that the therapy induces changes in kinase activities in the tumour, which lead to this resistance. Such changes might be influenced by low levels of oxygen in the tissue (hypoxia) , as there is also a correlation between tumour hypoxia and poor prognoses in prostate cancer.
With the PamGene technology, the researchers generated kinase activity profiles of preclinical and clinical samples from different stages in development of castration-resistant prostate cancer. The impact of hypoxia was assessed by matching the xenograft kinase activity profiles with those acquired from hypoxic and normal oxygen levels in prostate carcinoma cell cultures.
From these profiles, previously published observations of increased STAT5A activity in castration-resistant prostate cancer were confirmed. In addition, the researchers detected high STAT5A activity already in xenograft tumours that were still regressing after long-term androgen-deprivation therapy. Since STAT5A kinase activity increased by exposing prostate carcinoma cells to hypoxia, it is proposed that long-term androgen-deprivation therapy may induce tumour hypoxia and stimulate STAT5A kinase activity. This may subsequently lead to renewed, castration-resistant tumour growth. Hence, the study detected STAT5A as a candidate to be further investigated for its potential as marker of advanced prostate cancer and as possible therapeutic target protein.
Read the full article

Citation: Røe K, Bratland Å, Vlatkovic L, Ragnum HB, Saelen MG, et al. (2013) Hypoxic Tumor Kinase Signaling Mediated by STAT5A in Development of Castration-Resistant Prostate Cancer. PLoS ONE 8(5): e63723. doi:10.1371/journal.pone.0063723